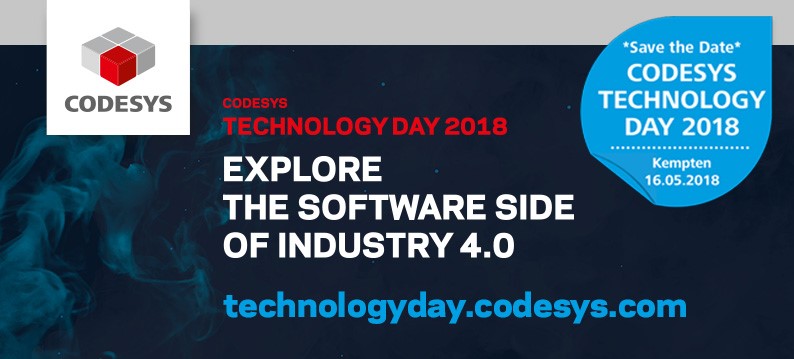 CODESYS Technology day
Op 16 mei 2018 wordt het grootste CODESYS evenement ooit gehouden in Kempten Duitsland. Het thema is "Explore the software side of Industry 4.0". Het is hét evenement voor iedereen die geïnteresseerd is in de verdere digitalisering van apparaten en de koppeling met het internet. Tijdens deze CODESYS Technology dag worden oplossingen getoond en wordt er een blik geworpen op de toekomst van automatisering met behulp van CODESYS.
Meer informatie is terug te vinden op: https://technologyday.codesys.com/en/ (link is vervallen, zie nu https://www.codesys.com/news-events/news/article/codesys-technology-day-now-on-youtube.html).
U kunt gratis deelnemen aan dit evenement. Via bovenstaande link is tevens het inschrijfformulier terug te vinden.
PS, Wegens de grootte van dit evenement en de benodigde voorbereidingen zal er in 2018 helaas geen Users Conference gehouden worden in de Benelux.